Riddarholmskyrkan
Visiting Riddarholmskyrkan in Stockholm is taking part of Stockholm's history in a very special way.

First we have the fact that Riddarholmskyrkan is said to be the oldest building in Stockholm, which is obviously special. The church was completed around 1300.

Second, Riddarholmskyrkan has for centuries been the royal burial church.

Taking part in a guided tour of the church gives a nice and interesting review of the Swedish kings and queens, told in a way that is easy to absorb.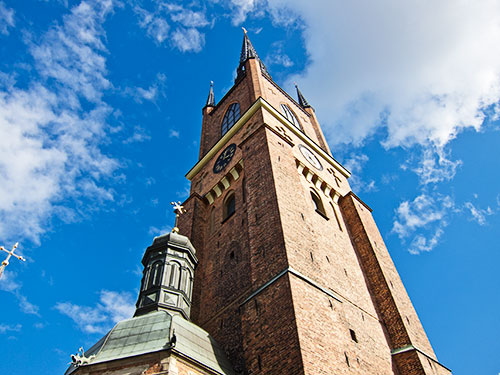 In the late 1100s and early 1200s St Francis, one of the Catholic Church's saints, lived in Italy. He was the son of a wealthy textile dealer and dreamed of becoming a knight. But when Francis was captured as a prisoner of war for a year, it led to a personal conversion, and he lived thereafter to preach the gospel of peace, caring for the sick and pray. Many joined him, and thus was formed Franciscanorden that quickly spread across Europe. The brothers went barefoot and dressed in gray, hence they were called even GREY FRIAR. It has been said of Francis that he was "in word and deed embodied Christian perfection" and that "in no one else ever has the image of Jesus and the evangelical life shone through more blatant and pervasive than that of Francis."
Grey Friars church
In 1268 the franciscanerna came to Stockholm and settled in what is now called Riddarholmen. There they built their monastery and the abbey church was inaugurated around 1300. The monastery was closed in 1527, in connection with the Reformation. The monastery church is still there and is today called Riddarholmskyrkan. It is Stockholm's oldest existing building.

In the monastery library there was a lot of hand-written papers studied by gråbröderna. By gråbröderna the first book printer came to Sweden, John Snell He had set up a printing press in the Franciscan monastery. Here the first book in Sweden was printed in 1483 .
King Magnus III and King Karl Knutsson Bonde
Magnus III was the son of Birger Jarl, who considered the founder of Stockholm. Magnus III was King of Sweden from 1275 to 1290 years. He had a great commitment to the church and favored franciscanerna by donating large amounts of money for their monastery. Magnus III chose even their graves in their church. Thus he was the first king who came to be buried here. The year was 1290 and the church had not yet been completed. Magnus III received his gravesite in front of high altar.

Almost two hundred years later, it was time for the next royal funeral in the church. It was King Karl Knutsson Bonde, who got his gravesite this year 1,470. Later, marked the two grave sites with two sumptuous tumbor, these states will not be in accordance with how the Kings looked like in reality.
Gustavian chapel
Gustav Vasa and his immediate descendants are buried in Uppsala Cathedral . But from Gustavus Adolphus was buried in Riddarholmskyrkan virtually every Swedish royalty for more than 300 years.

It was Gustavus Adolphus , the granddaughter of King Gustav Vasa and known as one of history's greatest military leaders , who built the Gustavian chapel in the south of the church. He himself was the first king who was buried here.

Gustavus Adolphus was married to Maria Eleonora . He is the only Swedish king who officially been honored with the title " the Great" . On his sarcophagus says " Gustavus Adolphus Magnus" which is Latin for " Gustav Adolf the Great" .

When Gustavus Adolphus was killed at the Battle of Lützen November 6, 1632 was the daughter Kristina queen. She had not yet reached the age of 6 years. Queen Christina was brought up as a king and as a man. She declared that she would not marry. Since she also had no siblings appointed herself his cousin Karl Gustav as heir apparent , he later became King Charles X Gustav . 1654 abdicated Christina. She then went to Rome and became a Catholic , which was remarkable in that her father had lost his life in the war against the Catholics. 1689 Kristina was buried in St. Peter's Basilica in Rome.
Caroline chapel
Charles X was named heir apparent by his cousin Queen Christina. He was king only in almost 6 years before he died of pneumonia. He was married to Hedwig Eleonora, which we've covered on the side Drottningholm.

In the Caroline Chapel is king Charles X was buried along with his wife Hedvig Eleonora. The chapel is also King Charles XI with his wife Ulrika Eleonora (the Elder), Charles XII, Frederick I and Ulrika Eleonora the Younger.